With a professional R&D team, we've made some significant breakthroughs on precision machinery, control technology, key components, motor drive,CAD/CAM software, information management, intelligent manufacturing.
Mechanical Field
At least 5 new products will be introduced to market every year to meet changing market demands.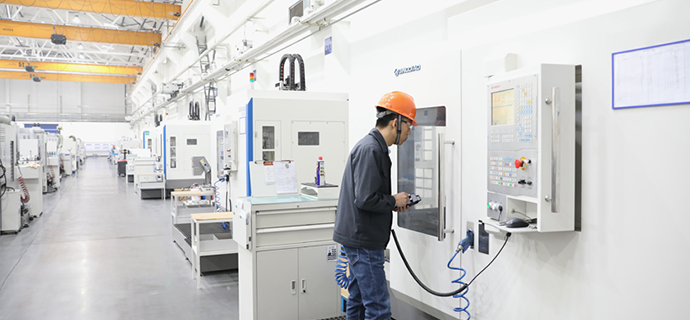 As the high speed machining center which is capable of realizing more than twenty kinds of precision machining, Jingdiao CNC Machine Tool can effectively reduce the process decomposition, facilitate the balance of production takt, greatly contribute to the production organization, and enhance the continuity of production. It can be used in many industries including precision workpiece machining, precision and ultra-precision electrode machining, precision mold & die machining, 5-axis machining. Complete solutions can be customized.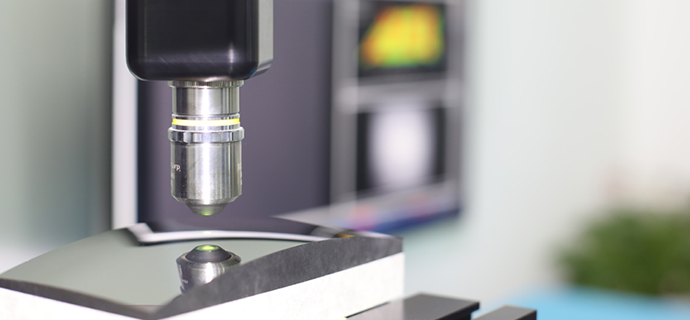 Product Design Center is responsible for new Jingdiao CNC Machine Tool product in design, development, trial production, assembly, test etc.. It is the most innovative team in Beijing Jingdiao. Since the establishment of Beijing Jingdiao, Product Design Center has developed more than 300 kinds of new Jingdiao CNC Machine Tool and 600 customized products, now still innovates by a speed of pushing out 5 kinds of new Jingdiao CNC Machine Tool every year. At the same time, this department undertakes the task of designing the Jingdiao CNC Machine Tool parts, including high-precision direct-drive rotary table, refrigerator, filtering system, special fixture etc.
CNC System
More than 100,000 sets of control system have been installed.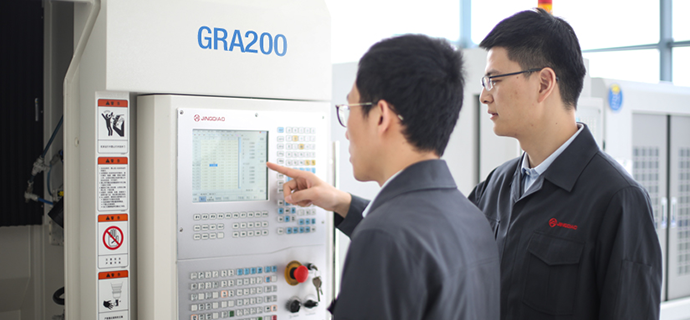 JD50 system is an open CNC system that is meet mainstream standard in the industry. It is basically consistent with other CNC system under basic concepts. JD50 has great similarity and compatibility with the most widely used CNC system in China on basic functions and human-computer interaction.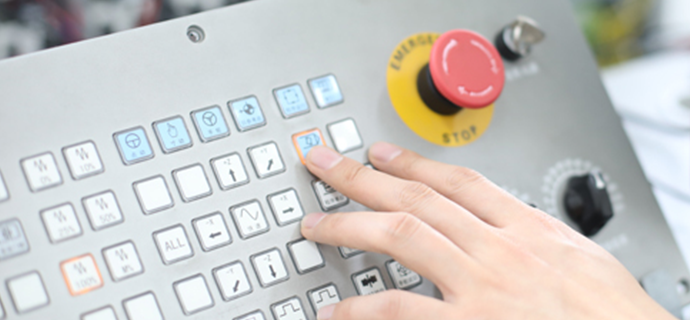 It possesses the inserting and supporting capability for various measuring modules. Those meterage modules can be inserted at the same time for composite measuring.
It has great automatic equipment access capability, which can contact with factory management server through Ethernet to support factory automatic monitor management.
It has strong compensation function, which provides self-adaption machining with simple and high efficient solution based on online measurement technology.
Supporting comprehensive multi-axis functions JD50 CNC system offers various functions, such as tool central point controlling, incline machining, work piece compensation, tool axial length compensation, 5-axis machining and tool radius compensation, which meets kinds of multi-axis machining requirements.
Perfect hand wheel trial-cutting is a very practical and easy-to-use function.
It has tools lifetime management function. Deep application of this function will greatly improve automation degree of batch machining.
It possesses authority management function to strongly support hierarchic production management system of factory.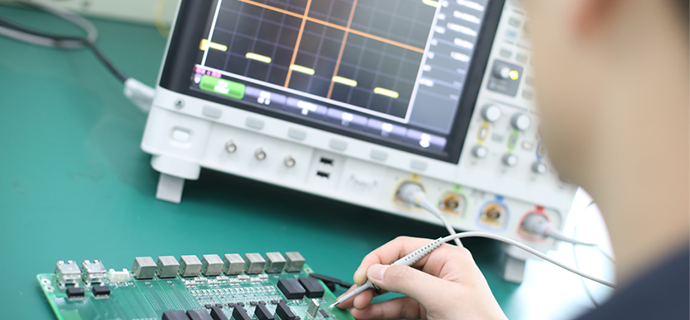 JD50 CNC system is based on PC-Based structure, uses inserted-type IPC (industrial personal computer) and Windows XP Embedded operation system platform, and adopts En3D as CNC software. This is most suitable for precision machining, and has reached advanced level in China on multi-axis linkage, online measurement, machine vision, etc.
Software
Software development is the starting point of Jingdiao, until now three software has been used by 70,000 users.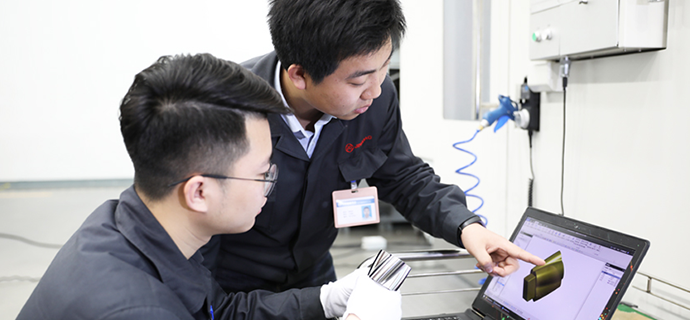 Beijing Jingdiao Group has been researching and developing CAD/CAM software independently since its establishment. After more than 20 years of hard work, several CAD/CAM software have been widely used in many fields, such as mold & die machining, product machining and multi-axis machining. Beijing Jingdiao Group has won the approval of more than 20,000 customers and provides effective support for NC users to use Jingdiao CNC Machine Tool more efficiently.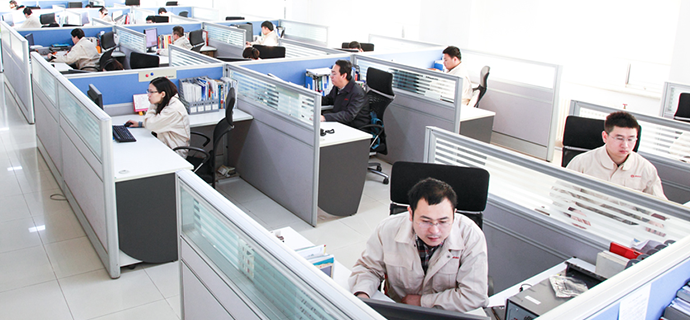 Beijing Jingdiao Software R&D Department is a team which creates most profits for customers. It concentrates on CAD/CAM software research and development, such as surface design, relief design, 3-axis machining and multi-axis machining. During the development of Beijing Jingdiao Group, the department insists on perfecting the CAD/CAM software to improve the processing performance of Jingdiao CNC Machine Tool, extend service life of Jingdiao CNC Machine Tool, reduce processing costs, help customers seek greater profits and promote the business redevelopment of customers. At present, the main software products are JDSoft SurfMill 8.0 and JDSoft ArtForm 3.0.
Process
Deep development of Jingdiao machine tools and provides stable, effective solutions.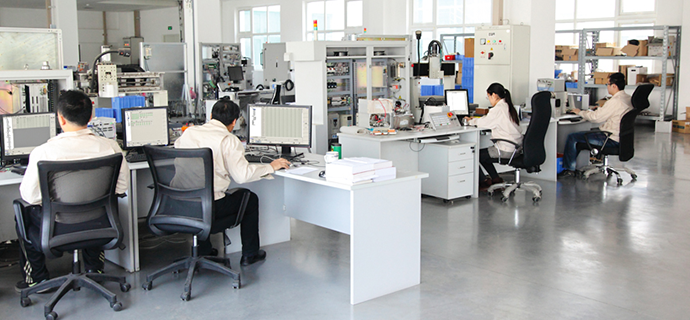 Beijing Jingdiao Manufacturing Technology and CNC Engineering Application Center is one of the strongest team in the whole groups, the team undertakes application development tasks of Jingdiao CNC Machine Tool, devoted to solve customers' and branch offices' use demand of various machines, through processing sample to seek a more stable and more effective solution for customers, meanwhile ensuring the machine work efficiently, and providing directive suggestions for the development and improvement of the machine and CNC System.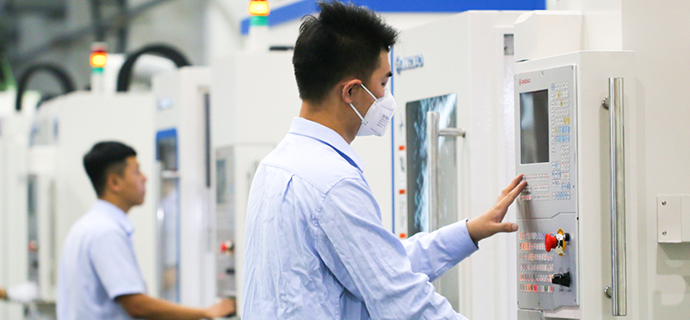 Research on the strategies of improving the machining accuracy.
Professional technical personnel conducts the deep study from the machine manufacturing precision, CNC System, CAM software, machining process, spindle and cutting tools, etc. And the solutions to improve the machining accuracy of the workpiece are proposed.
Research on the strategies of stabilizing the precision machining.
Professional engineering personnel conducts the systematic study on the machine quality process control technology, machine use and maintenance technology, mass testing and verification technology, etc. and designs effective solutions to provide guarantee for the machining quality and consistency of mass production.
Spindle
Structure design, experiment, production and application are researched all-around.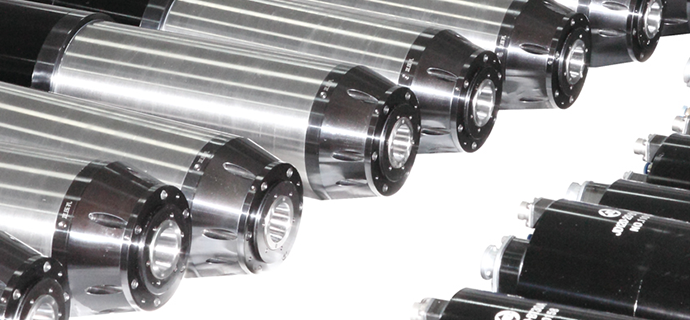 Jingdiao high speed machining center, the main product of Beijing Jingdiao Group, specializes in high speed, precision and combined machining. Similarly, as one of the machine's core parts, motorized spindle must also has such a high degree of speed , precision and multifunction. After ten years' continuous improvement, the motorized spindle Beijing Jingdiao developed independently not only has steadily achieved the goal of high speed and high precision, but reached the international level of high speed, high rigidity and low vibration.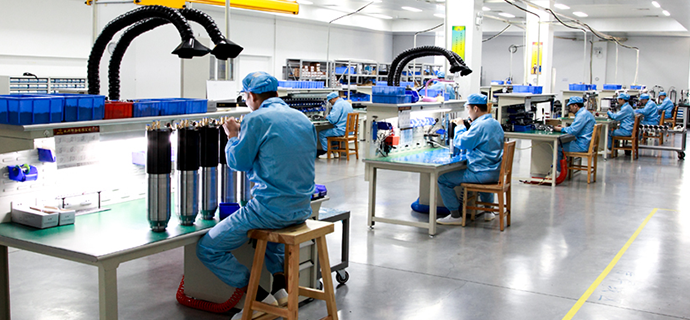 Beijing Jingdiao Precision Machinery Manufacturing Co.,Ltd., or Jingdiao Precision Machinery for short, is responsible for R&D and production of high-speed motorized spindle and other precision function parts. Jingdiao Precision Machinery has the strongest ability in Beijing Jingdiao for precision manufacturing and is engaged in comprehensive research mainly on the aspects of mechanical structure design, product testing, manufacturing and application, having achieved many breakthrough research results. They always adhere to the "delicate and infinite spirit of PI" and constantly improve the precision and ability of high-speed motorized spindle to improve the combined machining ability of Jingdiao high speed machining center and make Jingdiao high speed machining center the high-tech equipment in the industry. Currently, the high-speed and precision motorized spindle Beijing Jingdiao developed independently has more than 20 models and its top speed can reach up to 6000r/min.