We develop control system, spindle and rotary table to fully release machine's potential. These components are necessary for high quality and high precision machining.
CONTACT US
CNC System
PC based system with strong compatibility and customized development capability.
LEARN MORE
Authentic Control System for High-speed Machining
We develop specialized control system that has been sold for more than 100,000 sets. In order to provide you a better-quality CNC machining experience, we never stopped the optimization of it. JD50, the latest control system installed on Jingdiao high-speed machining centers, is fully in line with the international standards. Its compatibility with the international mainstream CNC system, not only facilitates on-site customized development of process functions, but also facilitates rapid realization of functions for fine processing.
←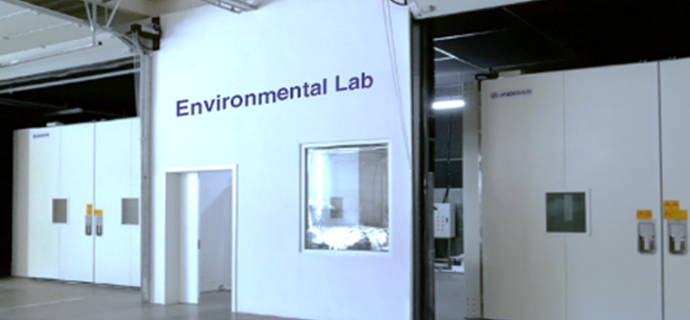 Good Reliability
Factory conditions of Jingdiao's customers are very different. That makes reliability and stability the most important two factors of control system. Jingdiao CNC system go through variety of processing conditions experiment.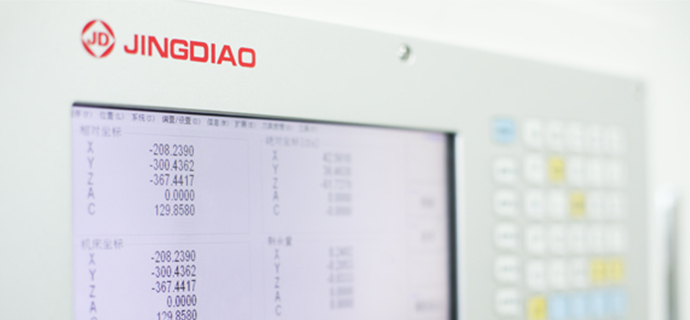 Highly Intelligent
Capability of on-machine measurement and intelligent modification provides significant support for Jingdiao machine tools to realize intelligent machining.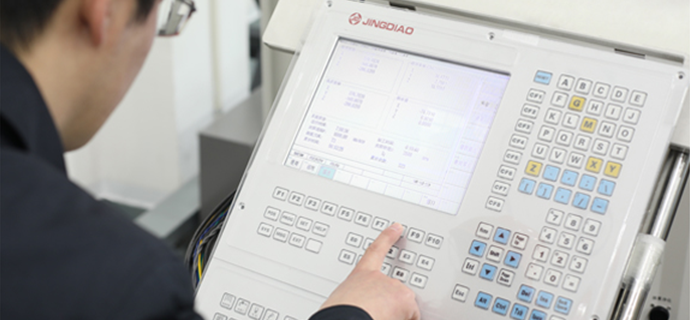 Customization
To make sure you could use Jingdiao machines easier and safer, we can customize the system according to different application.
FEATURED FUNCTIONS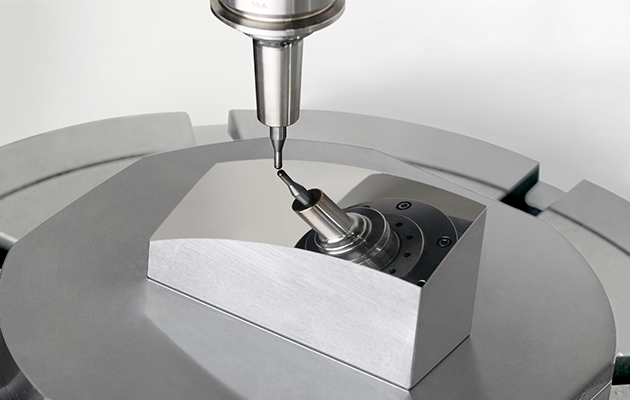 Advanced forward-looking function can realize smooth transition between line segments, greatly improve machining speed, and predict deceleration point as well to ensure machining accuracy at sharp corners.
With flexible motion parameter matching function, motion parameters can be matched according to product characteristics and accuracy requirements, and the processing efficiency can be improved as much as possible while ensuring machining accuracy.
Rich compensation functions include pitch compensation, proportional compensation, backlash compensation, tool compensation, etc., can improve machining accuracy of the product significantly.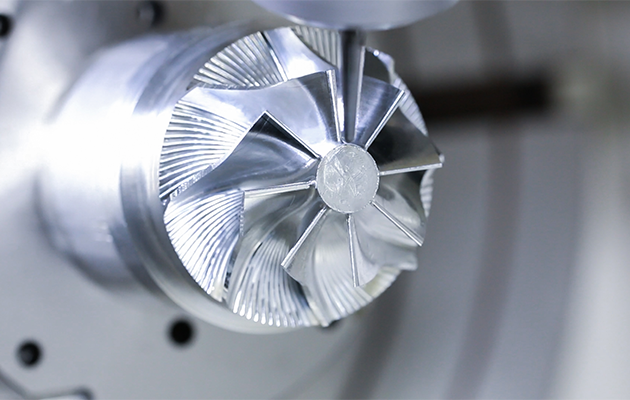 Various multi-axis machining functions are provided, including tool center point control, inclined surface machining, multi-axis tool radius compensation, axial position compensation, workpiece position compensation, spindle position compensation, which can cover all multi-axis machining requirements and achieve high quality machining of complex parts.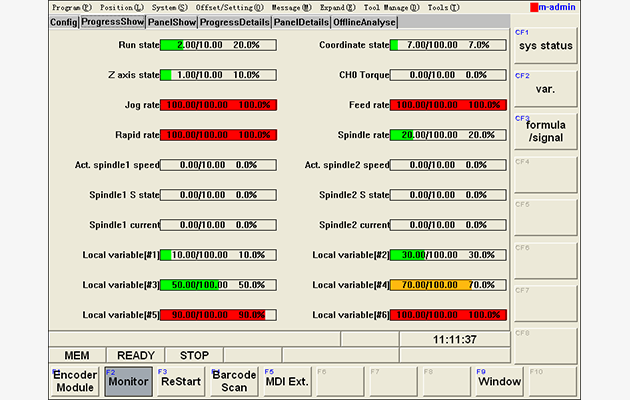 Use of a variety of advanced measuring equipment such as probes, CCD, laser scanning head and displacement sensor are supported by the system, which can realize workpiece position measurement, size detection and intelligent modification.
System macros are provided for displaying, saving and outputting high-precision 2D and 3D measurement and corresponding data.
JD GAGE measurement package is integrated to quickly realize probe calibration, workpiece feature measurement, and machine axis position detection.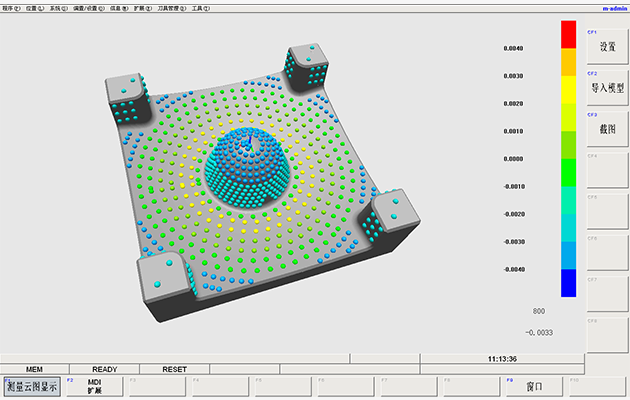 With a wide range of expansion interfaces, it can integrate various types of testing equipment to monitor machine status in real time.
Complete network communication interface are provided for remote monitoring of machine tools.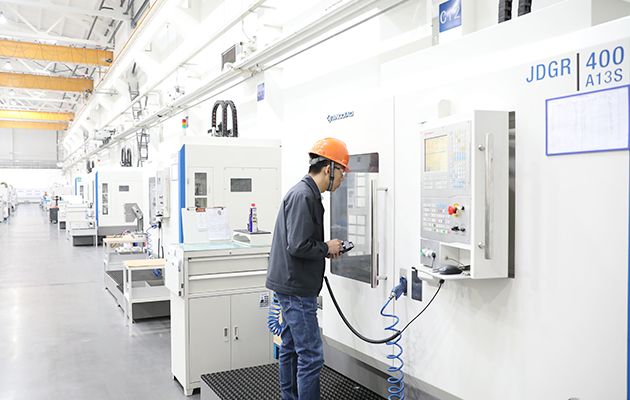 Hand wheel trial cutting, strict authority management and rich foolproofing function can greatly reduce the failure rate caused by misoperation.
Built-in auxiliary programming function and parameterized automatic programming function can improve programming efficiency.
Spindle
Capable of precision machining with small cutting tool and composite machining with large cutting tool.
LEARN MORE
Main Power Source for High-speed Machining
10 series high-speed synchronous spindles and corresponding drives are developed and manufactured by Jingdiao, as we recognize spindles the basic guarantee for micro-milling capability of machine tools. Benefiting from seamless integration between spindle and motor drive system, Jingdiao spindles have "low speed and high torque, high speed and low vibration" feature, and is capable of customizing spindle rigidity, motor characteristics and tool holder interface according to different needs.
←
Spindle
Basic Assurance for High-precision Multi-axis Machining
Beijing Jingdiao has realized the commercialization of high-precision direct-drive rotary tables which have been installed for more than 10,000 sets. This is due to the comprehensive platform including specialized R&D, precision manufacture, precision assembly and test from Jingdiao. Direct-drive rotaries developed recently are capable of 5s positioning accuracy, 3s repetitive positioning accuracy and 130Nm maximum torque.
←
Rotary Table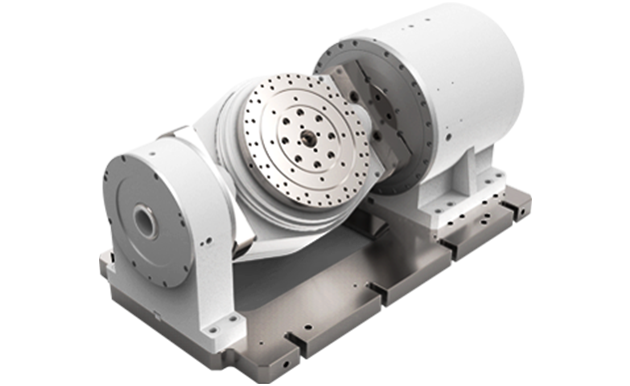 Table Size:

Φ220 mm
Workload:

30kg
Weight:

250kg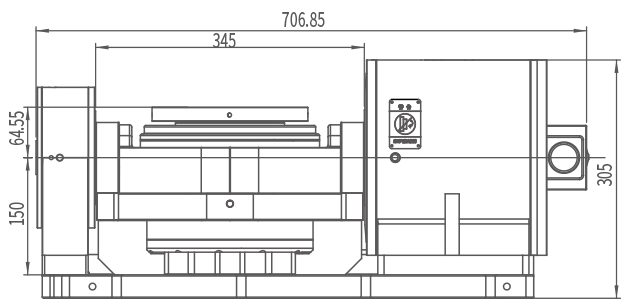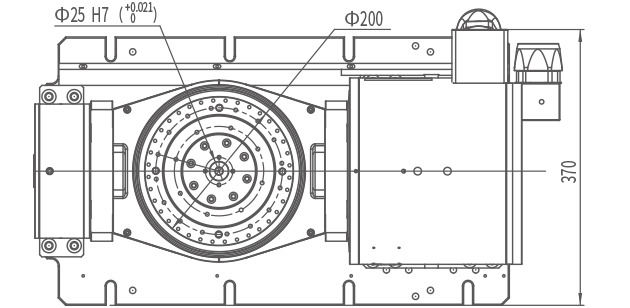 | | | |
| --- | --- | --- |
| Items | Tilt Shaft | Rotational Shaft |
| Position Accuracy (" ): | 8 | 5 |
| Repetitive Position Accuracy (" ): | 5 | 3 |
| Rated Torque (Nm): | 98 | 65 |
| Max. Torque (Nm): | 196 | 130 |
| Rated Speed (r/min): | 100 | 1500 |
| Max. Speed (r.min): | 200 | 2000 |
| Cooling: | Circulating Water | Circulating Water |
| Clamping System: | Pneumatic | Pneumatic |
| Clamping Pressure: | 0.6±0.02 | 0.6±0.02 |
| Clamping Torque: | 189/342 | 189 |
| Safety Brake: | √ | -- |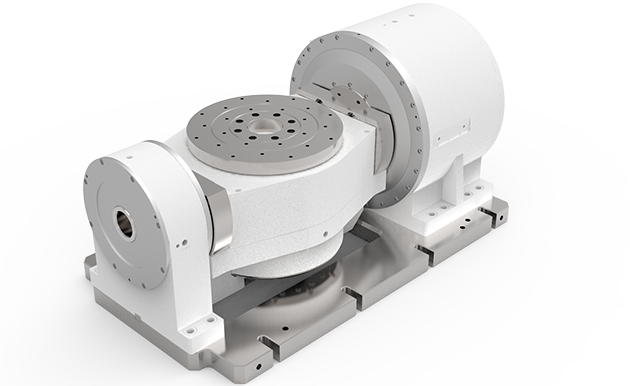 Table Size:

Φ220 mm
Workload:

30kg
Weight:

250kg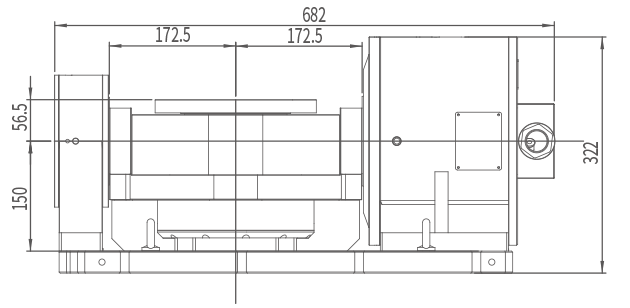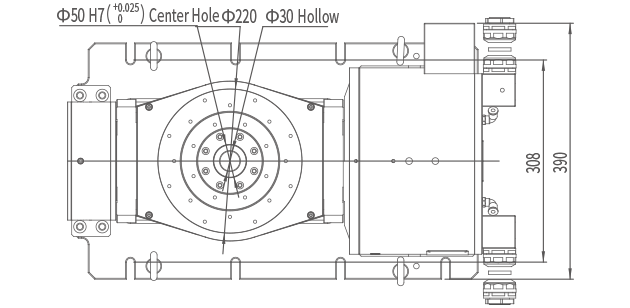 | | | |
| --- | --- | --- |
| Items | Tilt Shaft | Rotational Shaft |
| Position Accuracy (" ): | 8 | 5 |
| Repetitive Position Accuracy (" ): | 5 | 3 |
| Rated Torque (Nm): | 100 | 65 |
| Max. Torque (Nm): | 200 | 130 |
| Rated Speed (r/min): | 50 | 100 |
| Max. Speed (r.min): | 100 | 200 |
| Cooling: | Circulating Water | Circulating Water |
| Clamping System: | Pneumatic | Pneumatic |
| Clamping Pressure: | 0.6±0.02 | 0.6±0.02 |
| Clamping Torque: | 189/342 | 189 |
| Safety Brake: | √ | -- |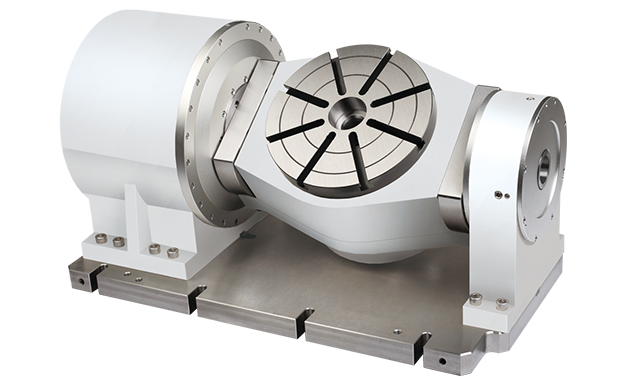 Table Size:

Φ220 mm
Workload:

30kg
Weight:

250kg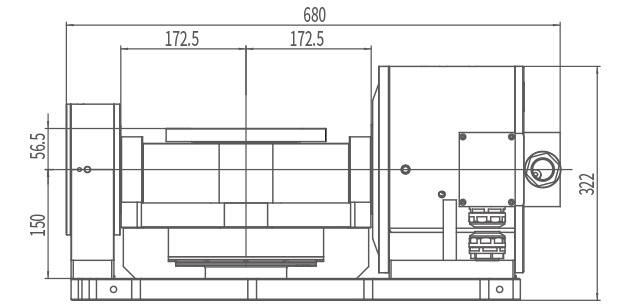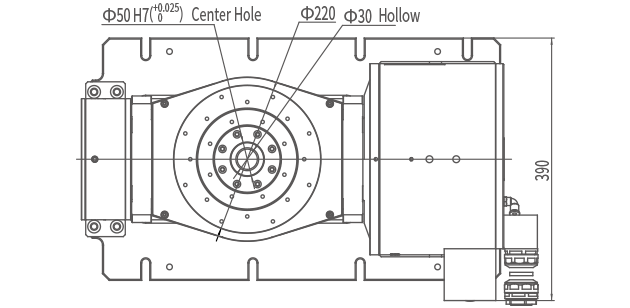 | | | |
| --- | --- | --- |
| Items | Tilt Shaft | Rotational Shaft |
| Position Accuracy (" ): | 8 | 5 |
| Repetitive Position Accuracy (" ): | 5 | 3 |
| Rated Torque (Nm): | 100 | 65 |
| Max. Torque (Nm): | 200 | 130 |
| Rated Speed (r/min): | 50 | 100 |
| Max. Speed (r.min): | 100 | 200 |
| Cooling: | Circulating Water | Circulating Water |
| Clamping System: | Pneumatic | Pneumatic |
| Clamping Pressure: | 0.6±0.02 | 0.6±0.02 |
| Clamping Torque: | 189/342 | 189 |
| Safety Brake: | √ | -- |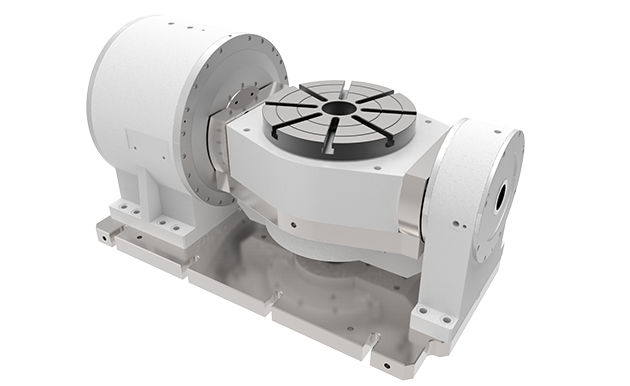 Table Size:

Φ220 mm
Workload:

30kg
Weight:

280kg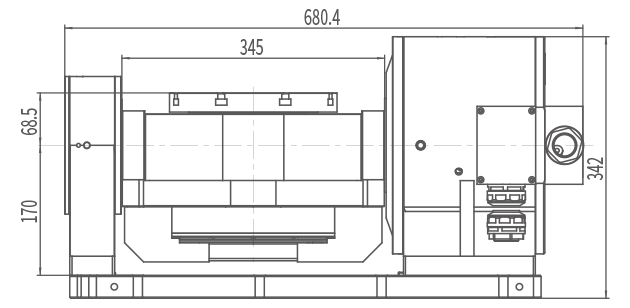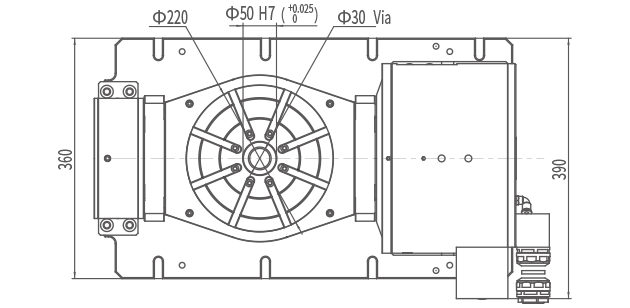 | | | |
| --- | --- | --- |
| Items | Tilt Shaft | Rotational Shaft |
| Position Accuracy (" ): | 8 | 5 |
| Repetitive Position Accuracy (" ): | 5 | 3 |
| Rated Torque (Nm): | 100 | 65 |
| Max. Torque (Nm): | 200 | 130 |
| Rated Speed (r/min): | 50 | 100 |
| Max. Speed (r.min): | 100 | 200 |
| Cooling: | Circulating Water | Circulating Water |
| Clamping System: | Pneumatic | Pneumatic |
| Clamping Pressure: | 0.6±0.02 | 0.6±0.02 |
| Clamping Torque: | 189/342 | 189 |
| Safety Brake: | √ | -- |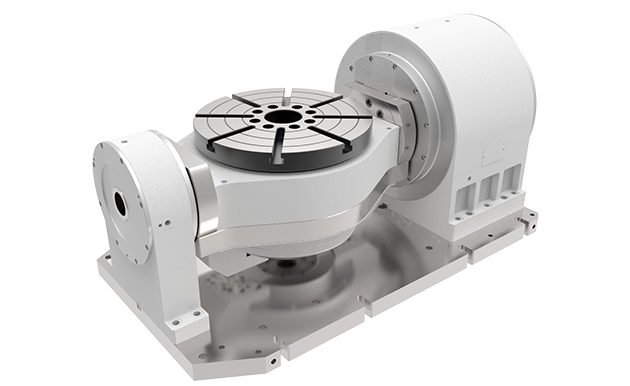 Table Size:

Φ285 mm
Workload:

50kg
Weight:

320kg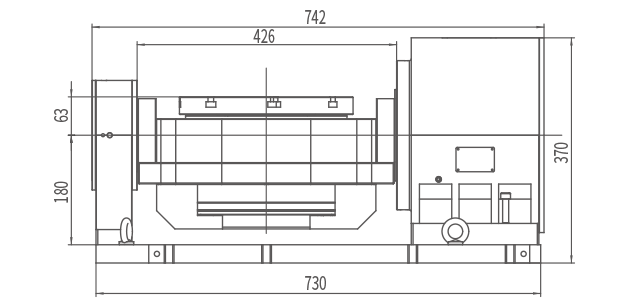 | | | |
| --- | --- | --- |
| Items | Tilt Shaft | Rotational Shaft |
| Position Accuracy (" ): | 8 | 5 |
| Repetitive Position Accuracy (" ): | 5 | 3 |
| Rated Torque (Nm): | 140 | 80 |
| Max. Torque (Nm): | 250 | 160 |
| Rated Speed (r/min): | 50 | 50 |
| Max. Speed (r.min): | 100 | 100 |
| Cooling: | Circulating Water | Circulating Water |
| Clamping System: | Pneumatic | Pneumatic |
| Clamping Pressure: | 0.6±0.02 | 0.6±0.02 |
| Clamping Torque: | 336/600 | 189 |
| Safety Brake: | √ | -- |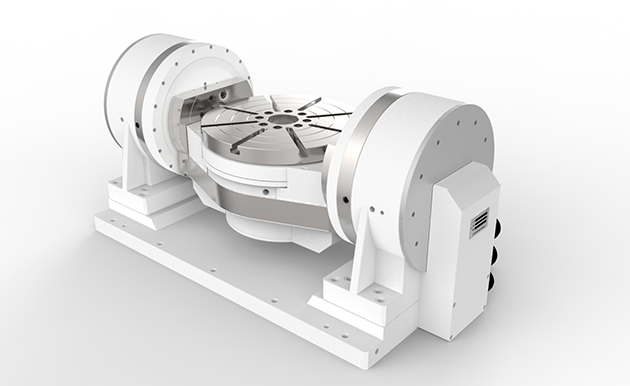 Table Size:

Φ320 mm
Workload:

100kg
Weight:

400kg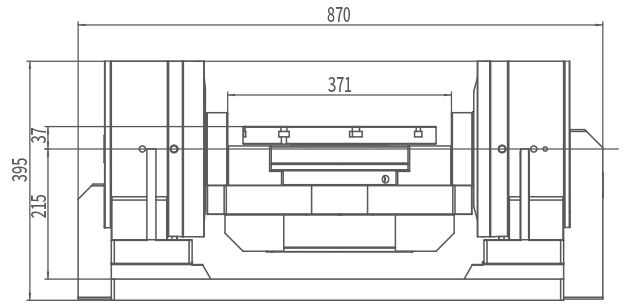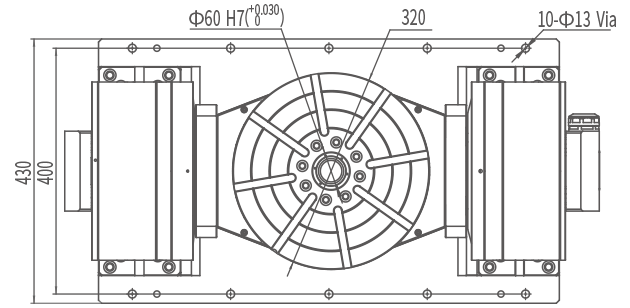 | | | |
| --- | --- | --- |
| Items | Tilt Shaft | Rotational Shaft |
| Position Accuracy (" ): | 8 | 5 |
| Repetitive Position Accuracy (" ): | 5 | 3 |
| Rated Torque (Nm): | 150 | 80 |
| Max. Torque (Nm): | 300 | 160 |
| Rated Speed (r/min): | 50 | 50 |
| Max. Speed (r.min): | 100 | 100 |
| Cooling: | Circulating Water | Circulating Water |
| Clamping System: | Pneumatic | Pneumatic |
| Clamping Pressure: | 0.6±0.02 | 0.6±0.02 |
| Clamping Torque: | 800 | 450 |
| Safety Brake: | √ | -- |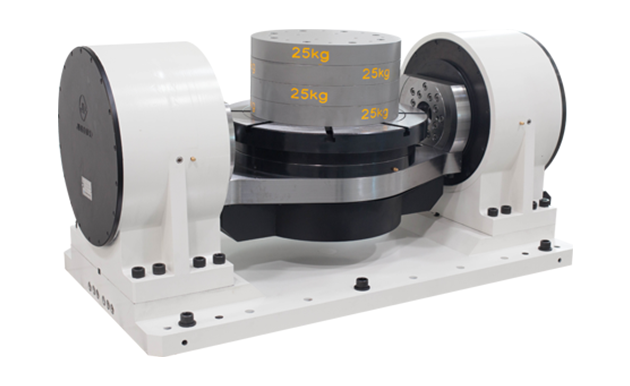 Table Size:

Φ220 mm
Workload:

150kg
Weight:

650kg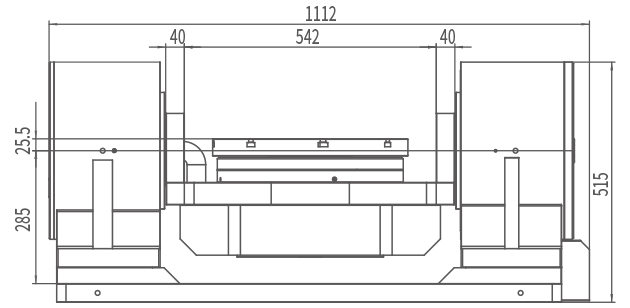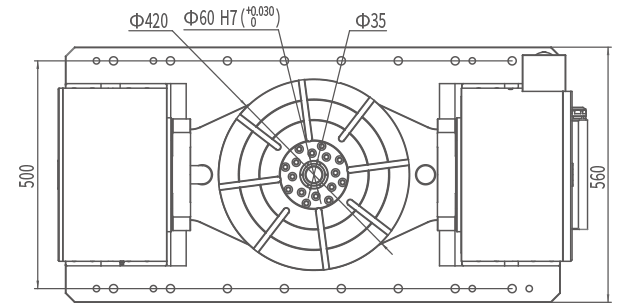 | | | |
| --- | --- | --- |
| Items | Tilt Shaft | Rotational Shaft |
| Position Accuracy (" ): | 8 | 5 |
| Repetitive Position Accuracy (" ): | 5 | 3 |
| Rated Torque (Nm): | 350 | 190 |
| Max. Torque (Nm): | 700 | 350 |
| Rated Speed (r/min): | 50 | 50 |
| Max. Speed (r.min): | 100 | 100 |
| Cooling: | Circulating Water | Circulating Water |
| Clamping System: | Pneumatic | Pneumatic |
| Clamping Pressure: | 0.6±0.02 | 0.6±0.02 |
| Clamping Torque: | 1380 | 750 |
| Safety Brake: | √ | -- |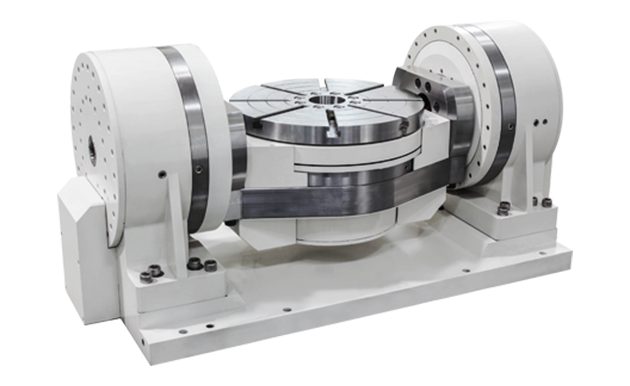 Table Size:

Φ320 mm
Workload:

35kg
Weight:

400kg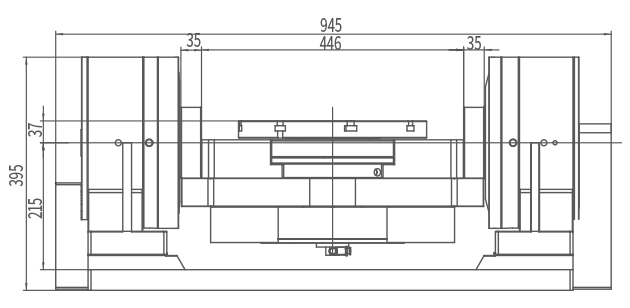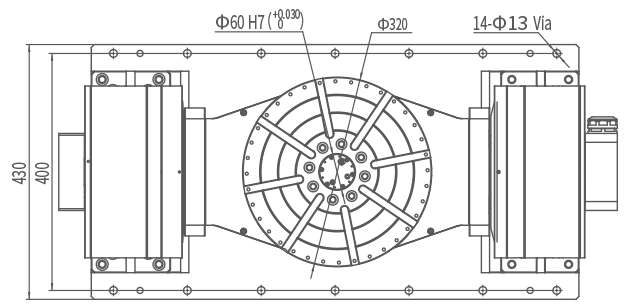 | | | |
| --- | --- | --- |
| Items | Tilt Shaft | Rotational Shaft |
| Position Accuracy (" ): | 8 | 5 |
| Repetitive Position Accuracy (" ): | 5 | 3 |
| Rated Torque (Nm): | 150 | 80 |
| Max. Torque (Nm): | 300 | 160 |
| Rated Speed (r/min): | 50 | 1500 |
| Max. Speed (r.min): | 100 | 2000 |
| Cooling: | Circulating Water | Circulating Water |
| Clamping System: | Pneumatic | Pneumatic |
| Clamping Pressure: | 0.6±0.02 | 0.6±0.02 |
| Clamping Torque: | 800 | 450 |
| Safety Brake: | √ | -- |